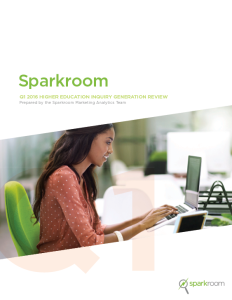 The Sparkroom Q1 2016 Higher Education Inquiry Generation Review provides a snapshot of education-specific marketing evolution and highlights trends to help marketers better adapt to the continually changing landscape.
Executive Summary Snippet: The first quarter of 2016 started the year off on a high note in terms of volume ― up YOY and just slightly below the first quarter of 2014. While this suggests potential for a strong year, the volume growth is heavily focused on campus-based inquiries...
Complete the form to download the full report.