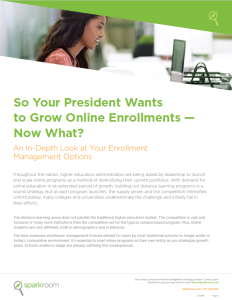 So Your President Wants to Grow Online Enrollments ― Now What?
An In-Depth Look at Your Enrollment Management Options
Throughout the nation, higher education administrators are being asked by leadership to launch and scale online programs as a method of diversifying their current portfolios. With demand for online education in an extended period of growth, building out distance learning programs is a sound strategy. But as each program launches, the supply grows and the competition intensifies. Unfortunately, many colleges and universities underestimate the challenge and initially fail in their efforts.
Fill out the form to download the whitepaper.