The highly demanded Sparkroom 2016 Year-End Review was published yesterday and is filled with lots of valuable information regarding the inquiry generation and student recruitment activities of higher education institutions. Highlights from this report are detailed below.
Inquiry Volume Was Up in 2016, Led by Online Programs
Total inquiry volume rose 2.4% in 2016 with the bulk of the increase coming from online programs. There was strong YOY volume expansion during the first two quarters, but then volume slipped during the second half of the year.
The volume changes for online and campus-based leads varied dramatically, as shown in the chart below. Online programs experienced volume growth each quarter while campus-based lead volume was down YOY beginning with the second quarter of 2016. Click here to download the report.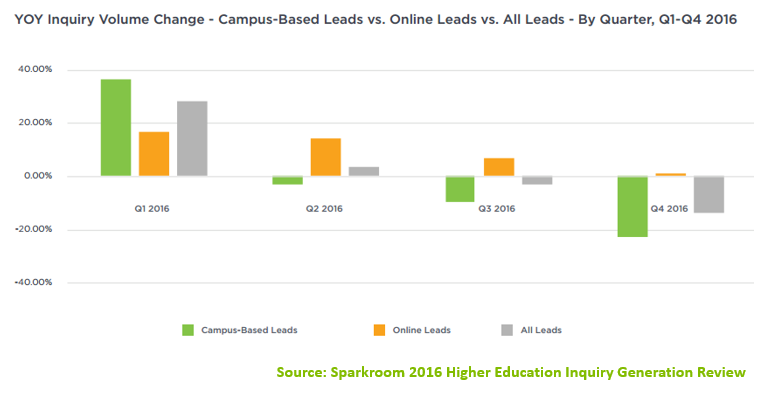 Conversion Rates Held Steady in 2016
The average conversion rates across all leads was 7.4% in 2016. A rate of 7.7% was achieved in 2015, but additional maturation of the inquiries from late in the year should get the 2016 rate at least even with that.
Conversion rates for online programs were superior to the rates for campus-based programs in 2016. The average conversion rate for online programs was 8.0% in 2016 compared to 8.2% in 2015. For campus-based programs, the average conversion rate was 7.0% in 2016. Click here to download the report.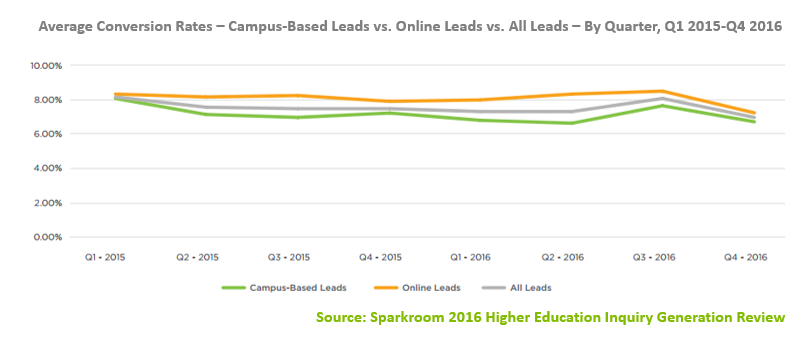 Despite Efforts to Grow It, First-Party Volume Share Stayed Flat
In 2016, slightly more than half (53.7%) of volume was generated by third-party sources. This share was down just 0.7% from 2015, despite the industry-wide drive to grow first-party sources. The split between first-party and third-party sources vacillated throughout 2015 and 2016. Advertisers achieved the record first-party share of voice in January 2015, with 51.0% of all inquiries coming from branded sources. Click here to download the report.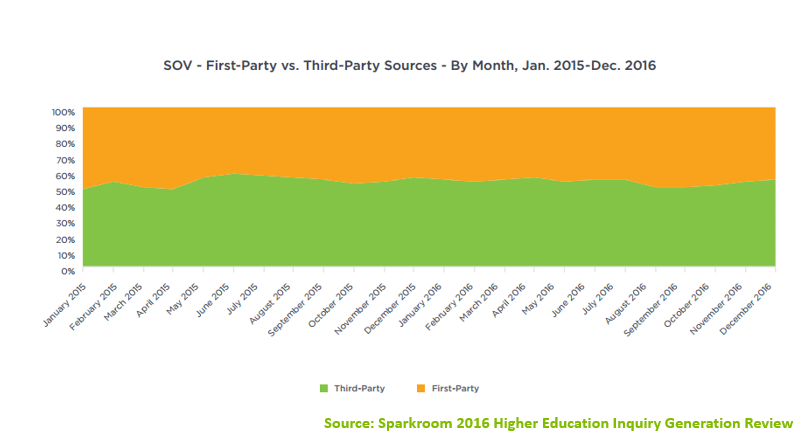 Expectations for 2017
The Sparkroom team believes the upcoming year may look very different than the past few years in terms of higher education inquiry generation. With the current political climate, many are anticipating revisions to higher education regulations that result in an increase in higher education marketing expenditures. In addition, we expect schools will continue to seek opportunities to scale first-party lead generation efforts, including an expansion of social media marketing due to the channel's continual targeting enhancements. Click here to download the report.